Active Streets is a project aiming to improve the everyday journeys of people across the catchment area of Portobello High School in Edinburgh. With a focus on journeys to and from primary and secondary schools in the area, the project is built around actively involving young people in a highly creative process that helps them to shape ideas for their own journeys.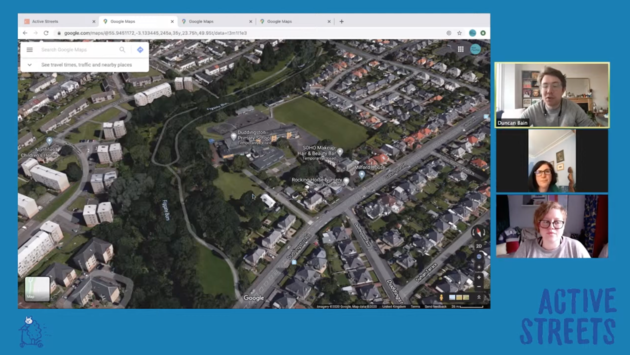 The project is led by Parsons Green Primary School Parent Council, who successfully sought funding from Sustrans Scotland to deliver a pilot engagement project with school students in 2019. Working with other primary school stakeholders across the Portobello High School feeder catchment area, further funding was gained to deliver an expanded project with all local schools in 2020. The initial stages of the project were delivered against the backdrop of the Covid-19 Coronavirus pandemic, during which all Scottish schools were closed. Led by New Practice, an engagement programme of digital and self-facilitated activities was created to allow young people and the wider community to express their perceptions of everyday journeys and develop creative ideas for future improvements. This included print-at-home activity packs to a recreation of the project area in the popular video game, Minecraft.
Our partnership with New Practice & support from Sustrans has allowed for a fresh & innovative engagement with the schools involved. New Practice's ability to be flexible, thoughtful and creative especially through lockdown, has enabled a report which can show clearly next stage development with a cluster school approach. This alongside strong guidance and support from Sustrans allowed for a rounded experience to facilitate young people's voices.
Samantha Rutherford - Parsons Green Primary School Parent Council
The project is funded through Sustrans Scotland and Transport Scotland's Places for Everyone programme. This funding programme supports local communities to create opportunities for improved everyday journeys by active means, including walking, wheeling and cycling. Funding is available across multiple project stages, from inception and brief building, to engagement with local stakeholders, to implementation and construction.
Based on outcomes developed through this stage of the project, the community will seek further support to realise active travel improvements throughout the Portobello area.
Header image: New Practice