Baltic Street Adventure Playground
Baltic Street Adventure Playground (BSAP) is child-led. The children choose what to do and can get involved in everything from the day-to-day management of the adventure playground to the ongoing development and making of the site. Specially trained play workers keep children safe, cook food on the campfire and support them to pursue their own play, from make-believe to construction projects.
The project grew out of a public art commission undertaken by Assemble - a collective based in London who work across the fields of art, architecture and design - with a group of children from Dalmarnock in the East End of Glasgow in 2013. BSAP argues for the continued relevance of the adventure playground as a counterpoint to the pressures of modern urban childhood, believing they are still a refuge of simple but powerful sets of ideas about both childhood and our relationship to our immediate environment.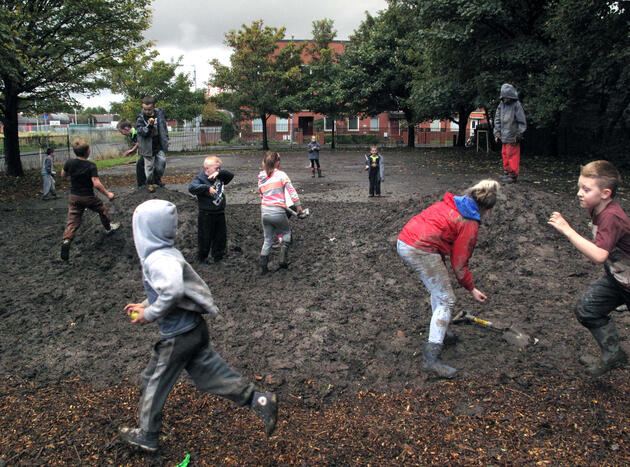 Over the last seven years Baltic Street Adventure Playground has grown from strength to strength. We have developed into a trusted and valued support organisation for the children, families and local people in our community. In doing so, we encourage children and families to get outside and play in their local green spaces whilst supporting them in dealing with food, financial and social insecurities. We provide a space to empower everyone who attends to bring their own ideas and contribute to the look, feel and culture of what is their space and local community.
Robert Kennedy, Play Worker - Baltic Street Adventure Playground
BSAP started as the lead public art commission for the 2014 Commonwealth Games, funded by Velocity, commissioned by Create London and supported by Creative Scotland, Clyde Gateway and Commonwealth Games. It now receives core funding from Big Lottery Connecting Communities and Children in Need, with support from Tesco Foundation, Asda Foundation and the Voluntary Action Fund, among others.
Header Image - Baltic Street Adventure Playground, Photo by Assemble