Creative Dundee began as a blog in 2008 which grew into a social enterprise dedicated to better connecting the city of Dundee through advocating and recognising the incredible things that are made in Dundee, and encouraging an environment that inspires new collaborations to emerge. Today, Creative Dundee operates as a citywide network leading collaborative projects which generate local, national and international opportunities for people and the city. For more than a decade the organisation has supported Dundee's strong creative ecology and citywide transformation, most notably leading the development and creation of the Creative Industries Strategy for the city with wide ranging local partners.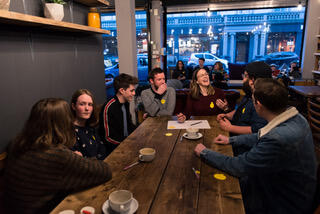 Over the past decade, Creative Dundee has supported the destination development of Dundee through creative, cultural and community focused projects which have helped to make a thriving place and bring local people into decision making processes. Beginning in 2008, soon followed the production of then Dundee's only crowd-sourced guide to the city to touring hundreds of international journalists around the city as part of V&A Dundee's opening programme in 2018. In 2014 the organisation was part of the bid team who secured the UNESCO City of Design Dundee designation and during the 2020 global pandemic hosted a citywide future focused conversation 'We Dundee' for people to share their views, share their radical ideas and celebrate the positive as well as highlighting the less positive as a way to collectively reimagine the city.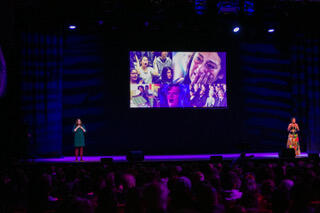 Creative Dundee has been shaped from the ground up by Dundee's diverse creative communities and has grown in response to the needs of the city and its residents. As a small yet responsive organisation, we initiate collaborations with partners of all shapes and sizes - locally, nationally and internationally. By making space to share, we create community, opportunities and above all, a sense of belonging. We have enabled community engagement, led local policy and made the creative scene visible through our online platform. We believe Dundee's creativity is transformative, and are committed to amplifying its reach and impacts.
Claire Dufour, Programmes Producer - Creative Dundee
Creative Dundee works in partnership with individuals and organisations to benefit creative communities, the city and its people. Initially conceived as a self-funded blog the project grew into an organisation over time through various partnership funding approaches. In 2018, it joined Creative Scotland's Regularly Funded Organisation (RFO) network for an initial three year period. The organisation is currently supported by Creative Scotland and Dundee City Council. The organisation also operates as a social enterprise to enable independent income generate to supplement the funding they receive.
Header Image - Screen in the Square, Photo by Stephanie Fulke