Custom Lane is a creative hub created to identify, support and celebrate emerging world-class design in Scotland. Located in the heart of Leith's historic scenic shore area - home to a diverse range of creative organisations, architects, production agencies and artists' studios - Custom Lane is housed within a refurbished waterside building and its fully accessible ground floor comprises a café, shop, gallery, event space and workshops. The remainder of the building is home to a suite of workspace dedicated to design and creative development with the creative hub capitalising on its immediate access to the waterside with a regular programme of outdoor events and public facing activity bringing people from across Edinburgh, and beyond, to enjoy.
Custom Lane was established as a platform dedicated to creating the most engaging, enriching and enjoyable work environment for designers and design-led makers in Scotland. At the heart of Custom Lane is collaboration, and from the platform grew into a physical creative hub opening in 2014 and conceived by GRAS - a Scottish design studio part of the established conservation practice Groves-Raines Architects. Since then an active community has grown with residents (freelance workers, creative businesses and retail) taking ownership of the concept, building and surrounding waterside to create a thriving, productive culture and a new destination for the city of Edinburgh.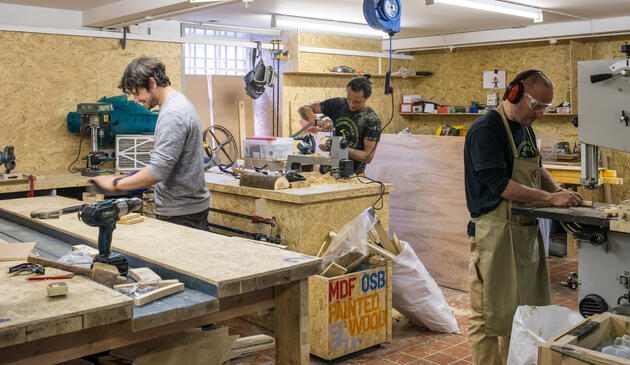 Custom Lane's sustainability has been wholly dependent on the commitment of a dedicated collective of project partners, supporters and mentors working together to develop and deliver a shared vision. These founding partners worked together to curate a cohort of like-minded, talented and ambitious residents who have formed the core of the Custom Lane community. Custom Lane has sought to nurture and grow this community, while providing a safe space for ideas, exploration and risk-taking which has become a locus for creative activity in Leith. Ultimately, it is the people that make the place special.
Gunnar Groves-Raines, Director - GRAS
The project was self-funded, with a soft-loan from Groves-Raines Architects Studios Ltd that covered capital investment and working capital for the first 18 months. The project is now self-sufficient, generating income from a variety of sources, but predominantly through studio rental and space hire. We have recently benefited from small amounts of commercial sponsorship which allow us to broaden the reach of our creative programme.
Header Image - Custom Lane, Photo by Gunnar Groves-Raines