Deveron Projects connects artists, community and place through a 50/50 approach that balances impact on both: the international art scene and the local community. Based in the rural market town of Huntly, Aberdeenshire, it works with artists from the locality and all over the world.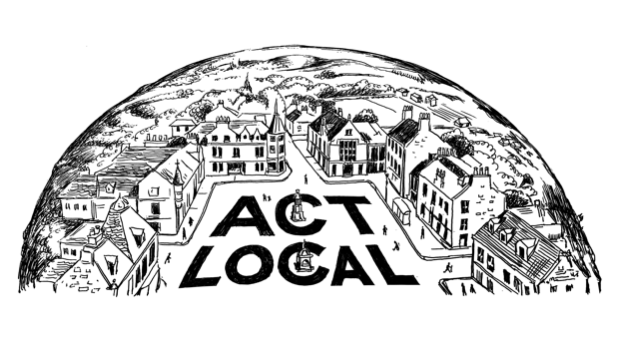 Deveron Projects was established by three like-minded people in 1995. Claudia Zeiske, one of the founding Directors, developed it over the years from a traditional rural arts group into an internationally renown residency organisation, specialising in socially engaged arts. To date, over a hundered artists have lived and worked here on over a hundred projects of community and political concern.
Deveron Projects has also created the unique town collection of contemporary art hosted in over 80 locations throughout Huntly, to include the station the schools and the churches as well as many of the rural shops. It runs also annual events, such as the Slow Marathon.
Deveron Projects (formerly known as Deveron Arts) has made its name through a unique 50/50 approach, balancing criticality with locality, artists with community, local with global. ARTocracy is the creative work method we use within the town is the venue framework. It suggests that all people have creative power, which reaches far beyond the walls of a gallery or art centre. Artists, we believe, are cultural activists who can energise people and communities, adding vitality to our society. Creative and playful processes can be employed to untangle and overcome real-life challenges, defuse conflict, solve problems and open up new possibilities. Through this kind of thinking we have carved ourselves a firm place in our town, which has been hit hard by globalisation trends. Today we are actively contributing to town regeneration responding to a local decision to bring the town centre into community ownership. This has earned us the Creative Place award twice.
Claudia Zeiske, Founding Director - Deveron Projects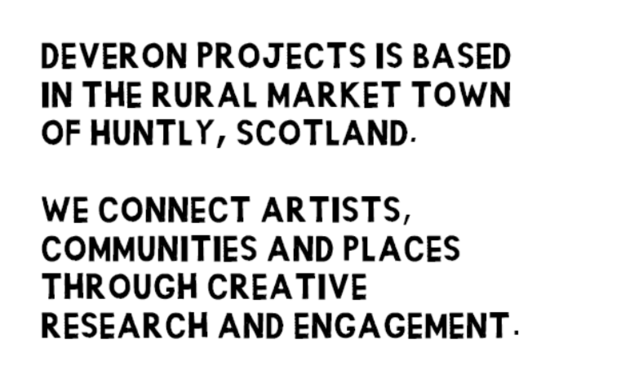 Deveron Project is supported by Creative Scotland and Aberdeenshire Council, which offers them the premises in the local library. It receives matching funding from a myriad of sources, including Leader EU funding, Erasmus, and various foundations, sponsorship and private donations.
Header Image: Act Local, Photo by Deveron Projects