LeithLate is a multi-arts charity based in Leith, responsible for various public art projects and the LeithLate festival. Our program of events is overseen by a voluntary Board of Trustees and delivered by a freelance Producer. Operating as an unincorporated association with voluntary committee for eight years, LeithLate transitioned into a charity with the help of a Shadow Board in 2019 and officially became a Scottish Charitable Incorporated Organisation in 2020.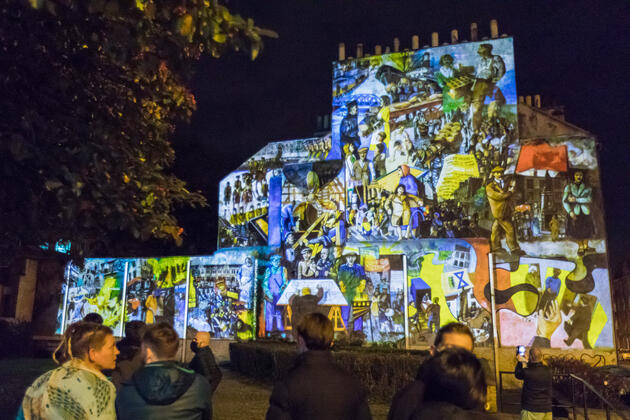 LeithLate began as a one night celebration of Leith's creative scene in 2011 with an art walk along Leith Walk, highlighting local art spaces and sites of creative activity and ending in an afterparty at a local community venue. The purpose of the organisation is to celebrate Leith, provide a platform for local and international artists to showcase their work and to engage with local businesses to promote artistic activity in the Leith area. LeithLate benefits the local community by regularly offering a programme of events and festivals that are for the most part free to attend, building partnerships with local organisations, and increasing public engagement with the arts and local civic life, both in Leith and the wider community at large.
Presenting our in-person physical Leith100 events in Leith in 2020 has been an absolute honour to be able to do. Events such as Light-Up Leith History Mural are a means of safely bringing the community together in order to reflect on our past, present and future through creative activity. I believe that there has never been a greater need for this than now, and that creativity is a means for us to do this very valuable work in our communities.
Morvern Cunningham, Founder and Trustee - LeithLate
LeithLate was self-funded for the first four years' of its existence, with additional income generated from afterparty funds and local business support. LeithLate was awarded Creative Scotland funding in 2015 and 2016, and the 2017 festival was funded by the City of Edinburgh Council. Since 2019, LeithLate has benefited from core funding from the City of Edinburgh Council and Baillie Gifford, alongside a variety of additional funding from cultural and academic sources.
Header Image - We Love Leith pavement art by Victor Fraser, Photo by Chris Scott