Look Again Festival takes place across Aberdeen during the summer months, inviting artists and designers to respond to place and people, animating public space and seeing the city through inspiring fresh eyes. Through the festival the creative community of Aberdeen is brought together, creating opportunities for students, emerging creatives and established professionals to present new work, develop their career and engage with the public.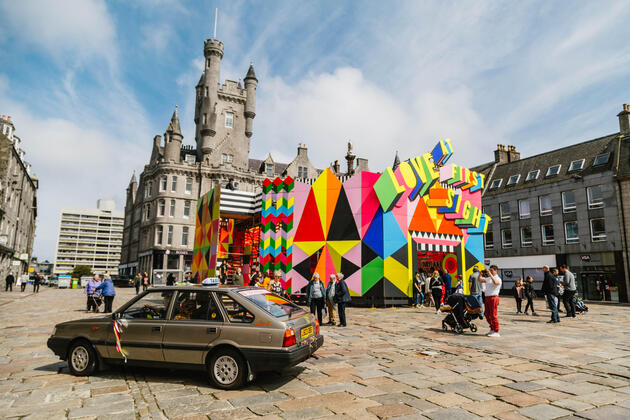 Look Again Festival was established and is led by Look Again, a creative unit based at Gray's School of Art, Robert Gordon University in Aberdeen. Look Again hosts a range of events and exhibitions throughout the year in Aberdeen all designed to connect, highlight and strengthen the creative sector in North East Scotland. Look Again Festival invites people to 'Look Again' at the city of Aberdeen through visual art and design projects that take place predominantly in public space as a way to engage diverse audiences in conversations about the past, present and future of Aberdeen. Recent projects include the first work by Morag Myerscough in Scotland which a large scale pavilion and part-stage animated Mercat Cross in the historic Castlegate with super colourful work to encourage engagement, conversation and an outpouring of love for the city, as well as graphic designer Supermundane working with the children of the Catherine Street Community Centre to provide direct and indirect influences for his major new public artwork celebrates the city.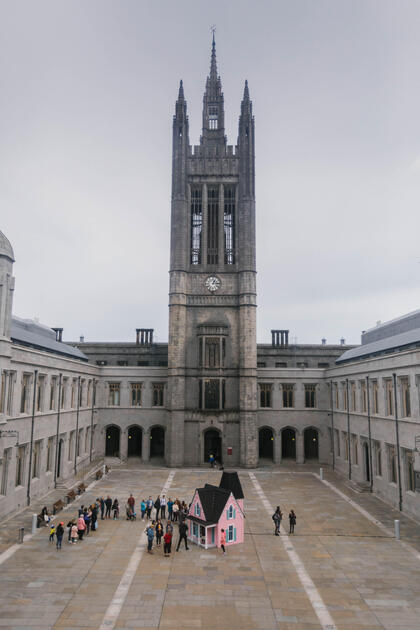 Look Again is produced by a unit at Gray's School of Art, part of Robert Gordon University. Growing steadily since 2015, we are now much more than an annual festival, and work to fill gaps in provision in creative sector support in the region. We offer exhibition programmes, design pop ups, creative business and professional development for artists and designers at all stages of their career. Key to our success is building a wide range of strong partnerships locally and nationally, being adaptive and responsive to opportunity, and having the support and trust of the creative community in our place.
Hilary Nicol, Co-Director - Look Again
Look Again began as an external initiative supported with funding from Robert Gordon University (RGU), as part of its public engagement programme, and through Aberdeen City Council creative funding. Creative Scotland funding was secured in 2016, and has been on a project-by-project basis. Other support comes from RGU Art and Heritage which is an accredited collection within the University. Look Again was an Aberdeen City Council revenue funded organization for 2 years until 2019. In 2018 the team were invited to join Gray's School of Art, and projects since have been supported by Aberdeen City Council and Creative Scotland through various project funding programmes. Look Again also delivers taught programmes as part of Gray's, working with students in a range of capacities, and this year developed and delivered a new credit bearing postgraduate short course as part of an innovative partnership within the University, thereby embedding our work within the institution.
Header Image - Mobile Ploposal Machine, Craig Barrowman, Temple of Jackie, Jacqueline Donachie, Broad Street, Aberdeen, Look Again Festival 2019, Photo by Grant Anderson