The Stove Network is an 'arts and community' organisation in the heart of Dumfries High Street. From their space, they are able to run a diverse programme encompassing many different avenues of art, design and enterprise as well as a cafe. The work of the Stove Network is to raise the profile of their creative community and their town through regular opportunities, workshops, events and projects.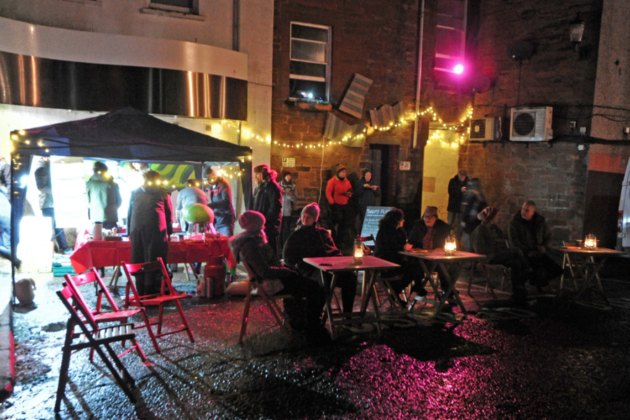 After an initial refit funded by the Scottish Government via the Dumfries and Galloway Chamber of Commerce (DGCoC) in 2007, 100 High Street shop front had been left empty. The Stove Network was formed in 2011 by local artists and creative professionals. The Network had seen the property as an opportunity and gained permission from DGCoC to run the space as a public arts centre.
The vision of the Stove Network is to make Dumfries a place where local people are involved in creating a truly creative, collaborative and enterprising culture through place-based embedded arts practice and support to bring together diverse communities to promote local wellbeing and sustainable futures.
The Stove has developed an approach of Creative Placemaking in Dumfries. This work has proved the value of creative practitioners in community-led regeneration initiatives, through an accessible approach to communication and a diverse range of hand-on collective projects, creativity has supported the growth of community confidence, and with it, a form of collective leadership that is giving voice to local people in decision making for the town. Through The Stove, Dumfries has developed innovative approaches to planning for our town and ways of advancing those plans through accessing a wide variety of funds locally, regionally, nationally and from diverse sectors.
Matt Baker, Orchestrator - The Stove Network
The Stove Network receives no direct subsidy from Dumfries and Galloway Council and is funded by a mixture of income sources. From private and public streams, renting out spaces within 100 High Street, paid work from commissions through to paired working with organisations as well as revenue created through the running of the cafe. The Stove Network has also received £100,000 per year from Creative Scotland (fixed for 3 years – starting April 2018) towards running costs and programme delivery.
Header Image: Megan, working in The Stove Cafe, Photo by Galina Walls