Partnerships for Place
Place-based working can support Scotland's public services work together to make a positive difference to the lives of people and communities. Some of these partnership arrangements are set up for specific purposes - for example, to integrate health and social care.
Partnership working on priorities for local places is important, and that's where community planning comes in.
Community Planning brings together public sector organisations like local authorities, NHS boards, enterprise agencies and regional colleges to work together and with local communities and third sector organisations, to make a positive difference on shared local priorities. This focussed, joint working can then be directed towards the local circumstances and help to identify shared objectives and opportunities.
These might, for instance, include increasing economic and employment opportunities in an area. They must take all reasonable steps to enable communities to participate in work to set priorities, plan and deliver action and review progress. They are also required to involve communities in locality planning, which must as a minimum plan and deliver action to make a positive difference in places where the local community doesn't benefit from good outcomes which people elsewhere can enjoy.
This type of collaborative working is essential if the efforts and resources we have at our disposal are going to have the greatest impact and work in ways that build in the benefits of preventative approaches and long-term thinking. These are not new ideas but, as the complex challenges of issues such as climate change and public health place greater strain on our resources, there is increased urgency for us to work collaboratively and to address the fundamental drivers of inequality and disadvantage.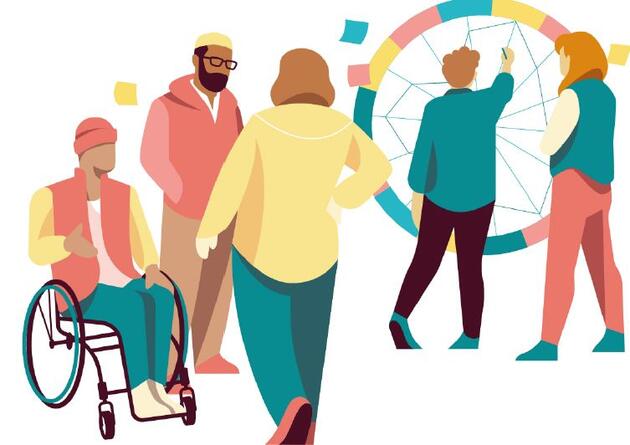 Community Planning Partnerships
A Community Planning Partnership (or CPP) is the name given to all those services in any local authority area that come together to take part in community planning. Each CPP focuses on where partners' collective efforts and resources can add the most value to their local communities, with particular emphasis on reducing inequality. CPPs are, at their heart, about collaboration and working towards the best outcomes for a place.
CPP plans
CPPs are responsible for producing two types of plan:
Local Outcomes Improvement Plans; which cover the whole council area

Locality Plans; which cover smaller areas within the CPP area, usually focusing on areas that will benefit most from improvement.
Each CPP will produce at least one Locality Plan and some CPPs will produce many depending on circumstances.
Community participation
Community planning is a collaborative process, and the active participation of communities is a key element. The CPP and their partners must ensure that communities participate throughout the process, from early stages, through the development of proposals and in the the delivery of the plans.
The Scottish Government has more information on community planning including guidance for those who wish to take part in the process.
Getting involved
Any community or third sector organisation keen to participate in the community planning process, may wish to contact their local third sector interface. Third sector interfaces support effective community planning by building links between voluntary organisations and the local CPP.
A list of all the third sector interfaces in Scotland, along with their contact details, can be found on the Voluntary Action Scotland website.
Community Planning and Spatial Planning
How our places look and operate and how services and facilities are accessed are closely linked.

A place-based approach to improving outcomes needs to consider these issues closely and how spatial planning and community planning processes work is a crucial element in maximising the outcomes for people and places.


Community Planning and the Place Standard
The Place Standard tool has been a useful method of engaging people and framing conversations in community planning processes.

Listen to how the tool has supported collaboration between community planning and development planning processes in Argyll and Bute.
Our Themes
Click on an image below to explore more of our themes